Imitation jewellery is no longer limited to tacky, plastic rip-offs of designer pieces. It has a universe of its own with stunning designs and craftsmanship. At Indian weddings, brides are expected to wear statement bridal jewellery pieces that can burn a huge hole in your wallet. And unfortunately these pieces have hardly any re-usability value so it's a dead investment. So is it really worth investing in ornate haath phools and diamond sets that you won't wear again? Also, with destination weddings being quite common, carrying fine jewellery isn't always recommended. And why take the risk when these brilliant imitation jewellery pieces can replace real jewellery without compromising on the look and feel!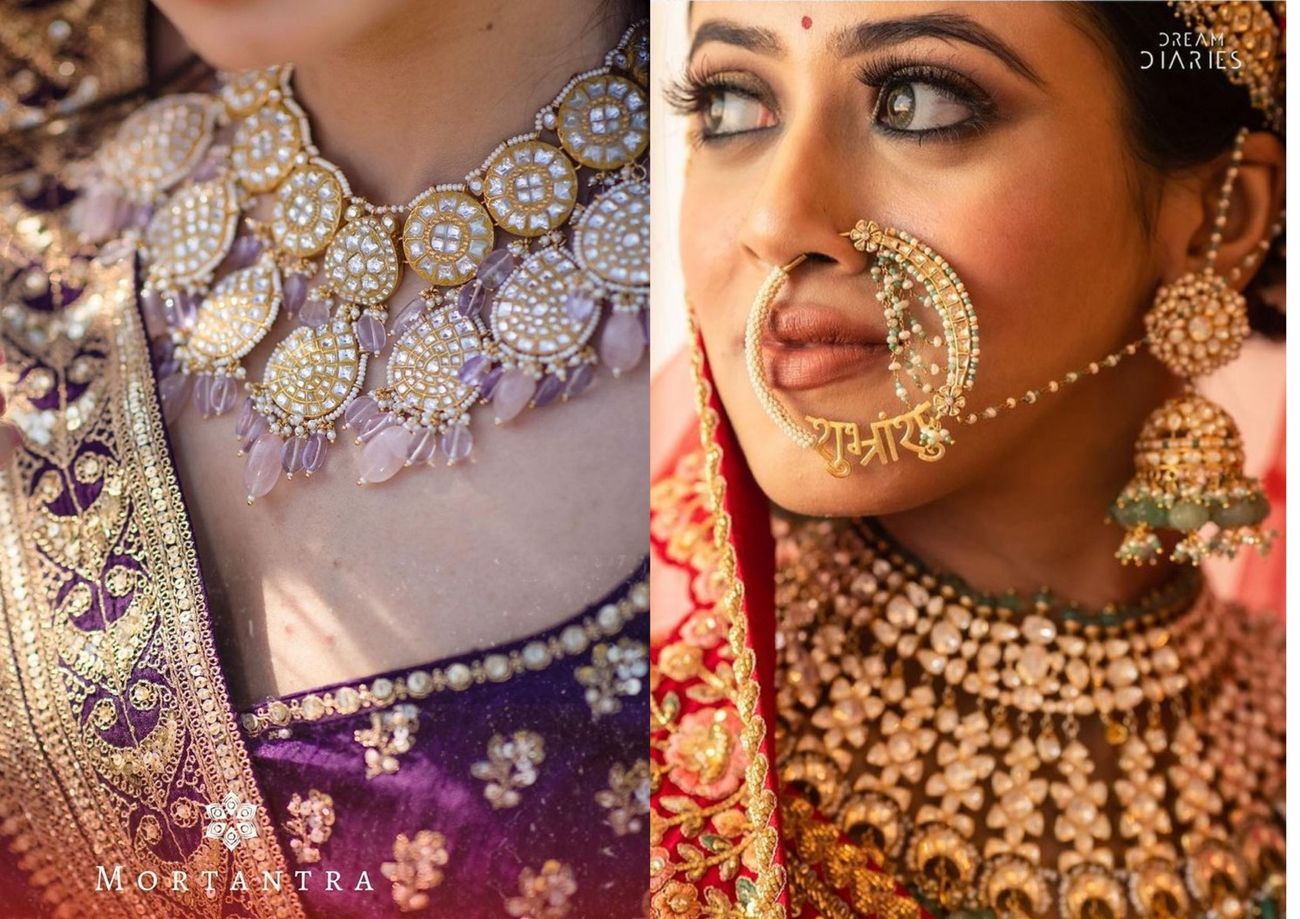 But how do you differentiate between the good and not-so-good imitation jewellery pieces as you make your choice? Bridal jewellery needs to make you look like a million bucks, but doesn't have to cost that much. We asked the experts on what are the things that you need to remember while picking out your bridal imitation jewellery
So while picking imitation jewellery, you have to understand that there are two kinds. One is a metal alloy kind and one is a silver with 2 microns gold plating one. The metal allow one looks low-graded while the silver kind looks close to real because of its quality. Real kundan is used to create these pieces while with the metal alloy, glass kundan is used. The silver jewellery will never turn black and comes with a warranty and the bride can use it for years, whereas the metal alloy one will turn black in a few months, giving you less wear! Silver jewellery with 2 micron gold plating is a great investment as brides who don't want to carry real jewellery to destination weddings or even guests, can easily pick these!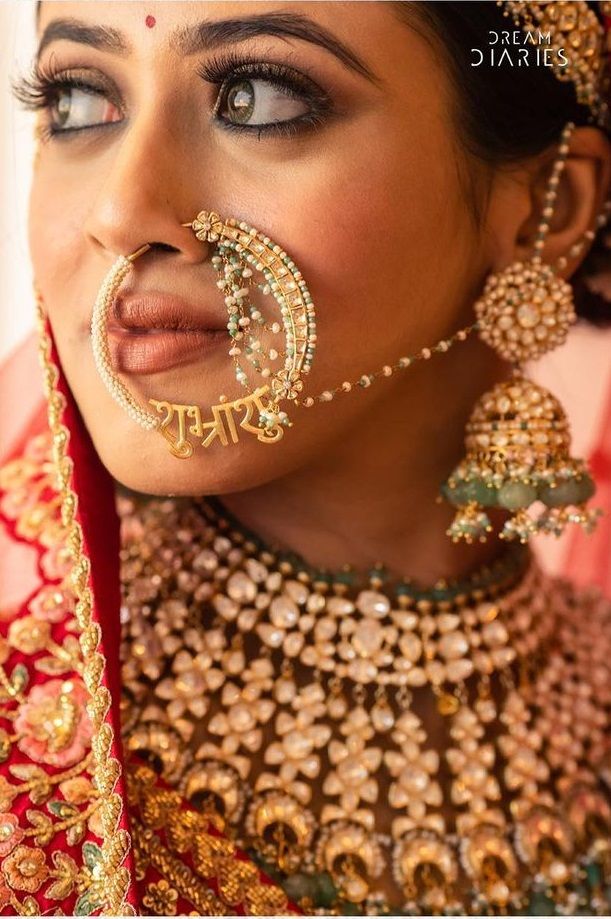 Image via Ra Abta By Rahul★ 4.8
Even when you shop of semi-precious, destination jewellery – the finish and quality is very important as you do not want it to look cheap on your big day. There are 100s of quality available in the market. Same design chandbalis might be available at 7000 to 700 depending on what material and finish they use
Always ask if the jewellery is gold plated, ask for a warranty and composition and making of it. Do not opt of machine made jewellery as handcrafted jewellery is always better in terms of finish. You can look out of pachi kundan, real jadau technique kundan setting and silver foil setting when looking at setting. Avoid using crystals, plastic stones etc as they will not give you a regal look. Lastly, you can't identify the finish and compositions just by looking at it, so always look for old client reviews. That will help you know if the brand you are going to buy does quality work and their jewellery stays good for years to come or not.
We cannot emphasize enough on how important it is to have great quality products worn on your important day. It definitely plays a vital role. Ask these questions before you buy – What plating is used? How many microns is it? How many carat plating is it? Also enquire about the base metal as different base metals react in different ways in different atmospheres. Every bride that is keen on a destination wedding should definitely make this her priority too. Research your metals with your destination temperatures.
Here are some basic tips and tricks that you should know before picking up your bridal imitation jewellery!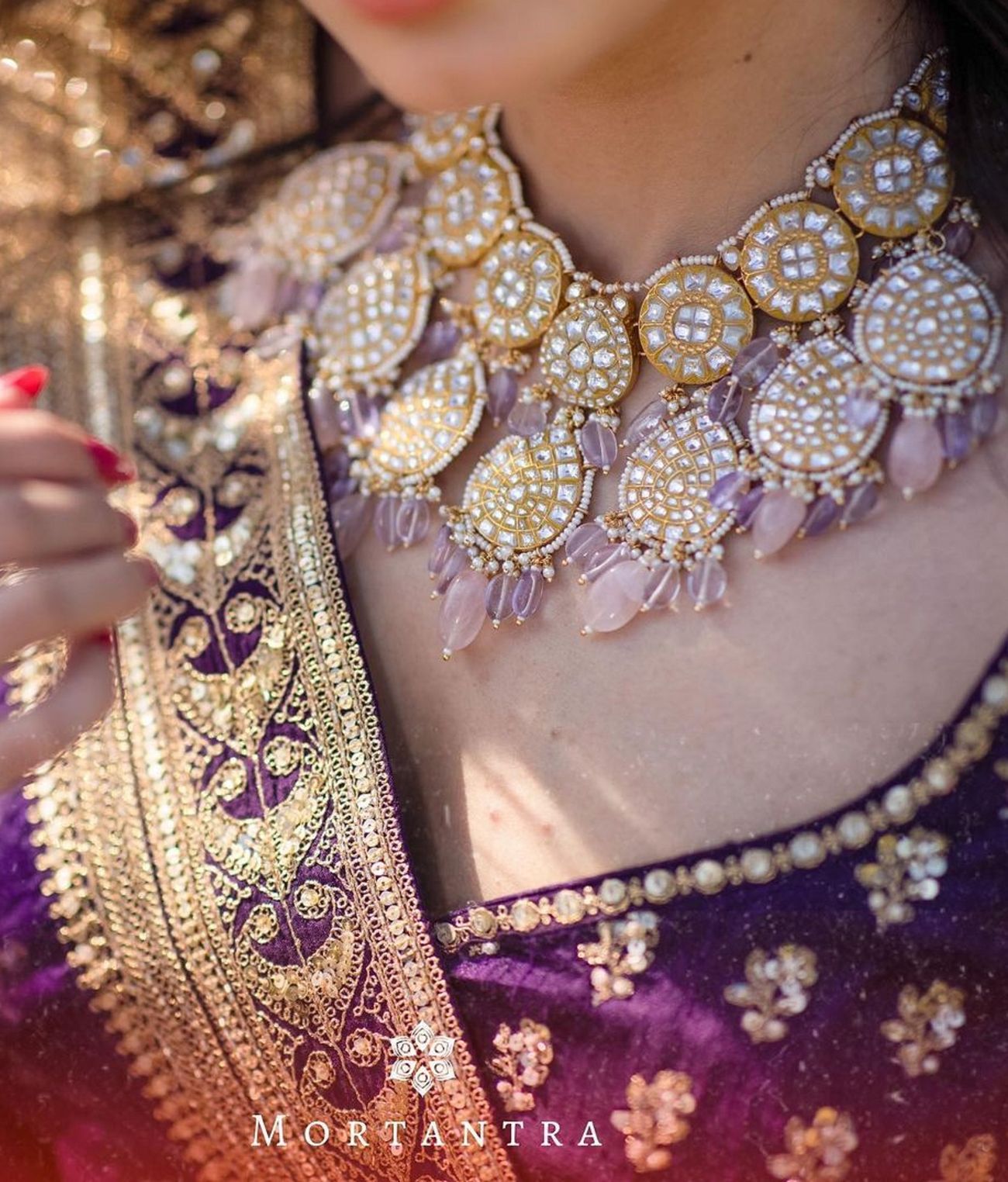 Image via Mortantra★ 4.7
Glass stones vs.uncut stones
Many imitation jewellery labels use transparent glass, which can look very fake. Good imitation jewellery labels use uncut stones like topaz to mimic the look of the polki. The difference between them is that one has facets giving it a very genuine look-alike quality to real polka while the flat sheesha/glass doesn't look real!
Silver > Metal Alloys!
Like our experts have emphasised, silver with gold plating is one of the best choices you can make. It can be expensive than mass-manufactured pieces but looks real and lasts longer, which is what our goal is!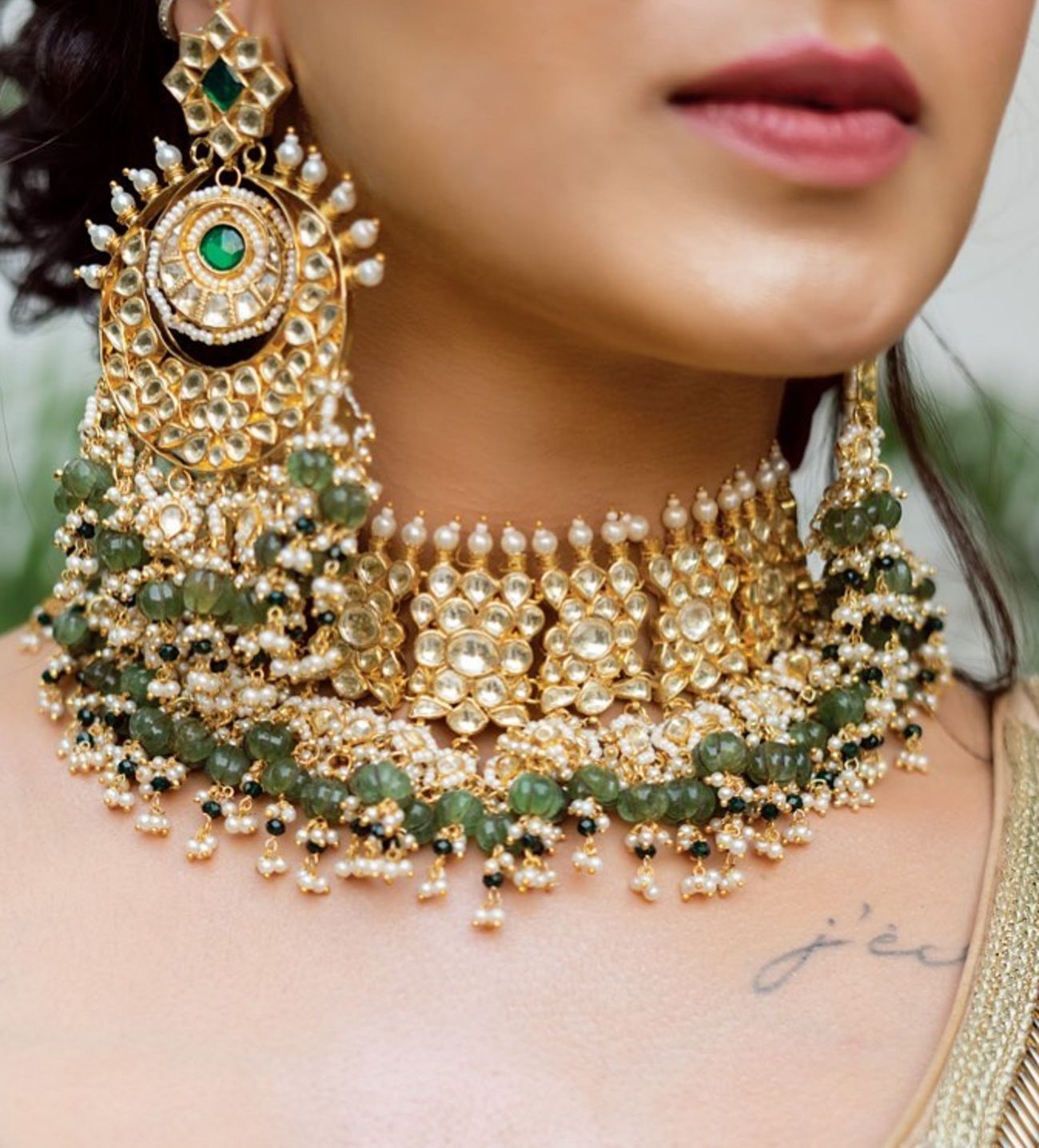 Image via Mortantra★ 4.7
How To Pick Real-Looking Diamond Jewellery
While you are picking diamond jewellery, you have to ensure than you are picking jewellery with excellent quality zircons only. Creating fake diamonds is hard so anything sub-par will instantly look fake. Polki is easier to imitate than diamonds, so it looks more authentic when it comes to imitation jewellery
Pay Attention to Details
This is the most important task that comes with picking artificial jewellery for brides that doesn't look fake – attention to details. Always keep an eye out for the finish of the product. Turn the piece around and see the setting details on the piece. Good quality imitation jewellery will use the same kind of closures that real jewellery has. The hook or the locking setting will be much premium than light strings that usually cheap imitation jewellery has. Also pay attention to the edges of the clasping to see if there's polish coming off.
Check the weight of the jewellery that you are buying. You don't want to pick chandbalis that weigh a ton for your sangeet night. Planning to pick a diamond set? See how it photographs under flash light. Pieces that may look nice may photograph tacky, which is something we never want. If you are looking at buying enamel jewellery, check the quality of enamel carefully. You don't want it chipping or undone.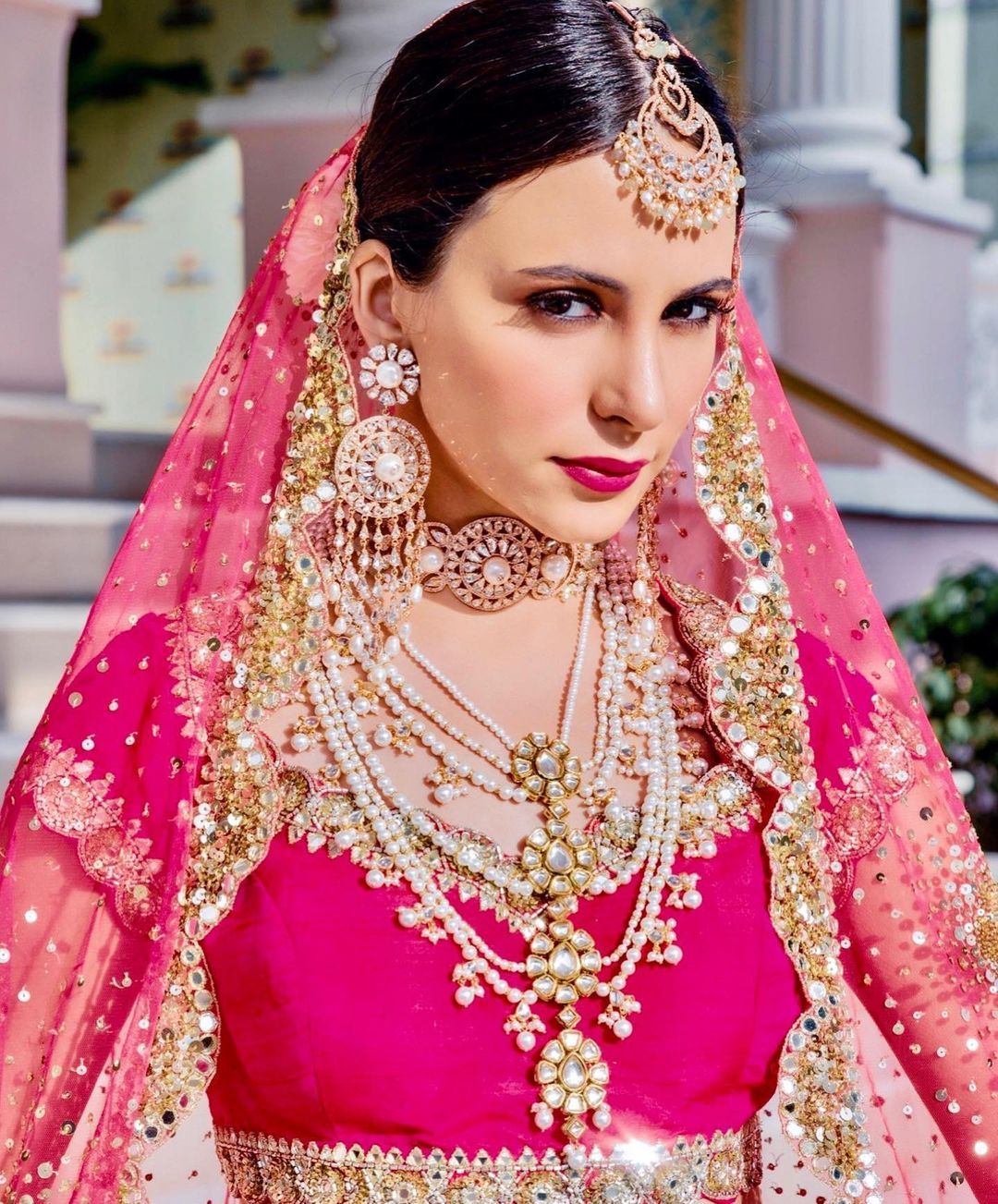 Image via Prerto★ 5
ALWAYS Pick Reliable Brands
Like we said there is a whole universe of labels and brands when it comes to costume jewellery for your wedding day so go for reliable brands. Choose labels that are sure to give you value for your money. You can be assured of a certain level of finish, craftsmanship and even customer service when you shop at a reputed label.
Pick Quality Over Mass-Manufactured
Even if these costume jewellery pieces are pocket-friendly than the real deal, they don't come cheap. So always pick quality pieces over massy-first-copy pieces. They may be a tad bit expensive than the mass-manufactured ones, but they are worth it. Go for good quality stones and metals – pick pieces that don't have pointy edges as they will get stuck on your clothing. Opt for hypo-allergenic and nickel free metals because the last thing you need is an allergic reaction on your wedding day!