Meridian Avenue is here with its all new and exclusive collection of gold chain-backed earrings. The earrings are linked back and forth with single strand of gold chain. It appears as a loop styled earring. The earrings are available in short; medium and long patterns as well. The medium and short length earrings blend well with almost every kind of apparel and outfit. You can use them on regular basis or for special occasions also. You can wear the long length earrings next time when you wish to groove the dance floor with some of your elegant moves! Hence, it is a must have for all our dancing divas out there! Our long earrings add extra oomph to evening gown and cocktail dress. Check-out some of our other exciting range of earring styles currently in trend-
Cuff-to-earlobe chain styled earrings-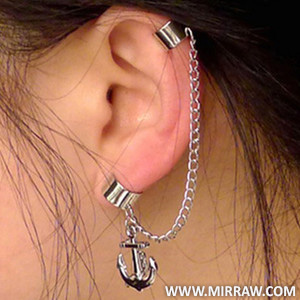 This is one edgy accessory that will make all heads turn! Miss Victoria Justice has been found flaunting this earring gracefully. To add more zeal to your look wear this earring with a pull back hair style. This way your earrings will grab complete attention. This earring is available in vintage designs as well as in modern patterns. The illusion style earrings are quite in trend nowadays.
Long Way down chain earrings-
This long way down chain earring gives an asymmetric look and should be worn on one ear only. It looks best both with short and long hair style. It is one earring style that has the modern day comfort and traditional elegance bunched together. Keep other accessories to minimum while you wear this earring.
Tassel Chain Earrings-
The tassle styled earring mostly comes with feather like tassles and adds extra hipness to your dress and style. This earring style looks best with slicked back hairstyle. The tassle earrings is available in various sizes. You can choose a size that best suits your personality and look.
Skinny Trio Chain Earrings-
This is a must have earring for those having multiple piercing. As the name suggests this earring sticks on to your ear skin and lobes. The earring gives a mesmerizing effect with its cascading shape and size.
Beaded Dangling Chain Earrings-
The beaded dangling earring is best suited for disco parties and night dates as it has an electric effect. This earring is available in multiple designs and patterns.