As a small jewellery business owner, you may be thinking up ways of engaging with your customers, as well as bringing in some new ones. If you've already built a small website to host your latest jewellery collections, and your social media marketing is picking up speed, it may be time to add another string to your bow.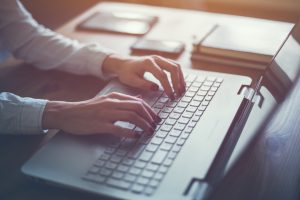 Here's how to create a jewellery making tutorial blog that will give your customers an insight into your handcrafted jewellery, the way that you work, and a little about you too. With just a couple of hours dedicated to your jewellery blog each week, you'll build your small jewellery business into a well-rounded brand that customers can really identify with.
What is a blog and how do I start one?
As highlighted above, a blog is another online marketing tactic to help drive traffic to your site, get your name out there and increase sales. However, a lot of planning has to go in to making a blog as there are a number of different aspects that make up a jewellery making tutorial blog. Here's what you should consider before you get started:
Choose your blogging platform
Not sure where to start?
There are several blogging platforms you can choose from and the choice you make may depend on your marketing budget and how much control you want over the platform. There are several free blogging platforms out there that are accessible and easy to use such as WordPress and Wix. These are a good option if you're starting from scratch with little budget, but the problem with these platforms is that you are confined by the templates they provide and the pre-set domains that come with the platform.
If you can spend a little more on your blogging platform, and you want more control over your jewellery brand, building your own custom site will make blogging the way that you want a much simpler process. If you're short of time, employing a third party to help you build the site to host your products as well as your jewellery blog will save you months of work. There's no harm in getting in the experts. That way, you can step in to take on the creative part – jewellery blogging!
If you've previously set up a fully functioning e-commerce website for your jewellery products, you may already be capable of adding a blog section to your site. If you're unsure of how to do this, get in touch with your content management system provider – they should be able to support your request.
Generate some jewellery blog post ideas
Starting a blog is all well and good, but being unable to keep up with a weekly blogging schedule because you're short of ideas is going to leave you feeling unmotivated to write. Before you even think about your blogging schedule, start a list of jewellery blog ideas. These can range from your favourite upcoming jewellery trends, a bio on how you got into jewellery making, or a competition for your customers – the list can go on and on! Once you have a solid set of ideas that you would be excited to write about and that your customers can relate to, then you can build a schedule that works for you.  Check out some more blogging tips and tricks for beginners below:
Build your jewellery blogging calendar
One of the most important jewellery blogging tips and tricks is to create a calendar for your posts. Have you set yourself a goal of writing one blog a week? Or maybe once a month? Once you've set expectations, you can then build yourself a calendar to help you stay on track with your blogging goals. Add notes to jog your memory and think about where you would like the user to go next after reading your blog. If your blog is about your latest collection launch, remember to link through to your new collection page, especially if you already have an e-commerce function set up where users can buy your products.
With regular time set aside that is dedicated to your jewellery blog, you'll be more likely to get into a writing routine. And if you hit a brick wall or you're finding it hard to just sit down and write? Write the first thing that comes to mind. You may find it difficult at first but once you get into the habit of writing, it will soon come naturally.
How to use blogs for marketing:
If you're pouring more effort into marketing with jewellery making tutorial blogs and social media, you'll want to make sure that your work is reaching potential new customers. By optimising your jewellery blog posts, you'll stand in good stead when people come to search for jewellery inspiration online.
One way of optimising your blog posts is to use a Search Engine Optimisation plugin. WordPress features a simple plugin that helps you easily add a target keyword to your blog that people may be searching for, as well as adding that keyword to the snippet of text that appears in search results. With an extra 10 minutes of optimisation, you may be able to make your blog posts more visible to new users. New users mean potential new customers, and an excellent way of engaging with your existing customers who will come back again and again.
The rest is simple…
Just keep blogging!
Starting a jewellery blog from scratch takes time and effort, and can understandably get pushed aside, especially when you're busy making jewellery. But the important thing to remember is to just keep going. Even when your schedule falls by the wayside, starting a blog will help you to engage with your existing customers and giving you the opportunity to target some new ones.