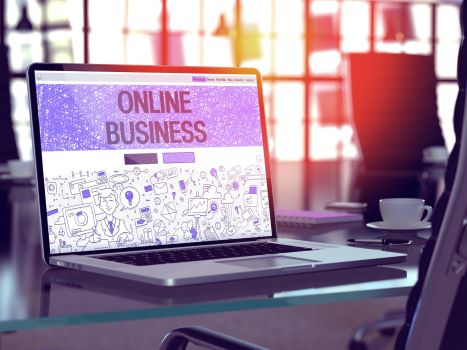 Setting up an online jewellery business is undoubtedly an exciting prospect, but one that comes with questions like 'where do I start?' and 'do I have enough know-how to make this work?' These questions are completely reasonable – every jewellery business owner has them at first.  But while you may have questions about how to start a jewellery business online, there are some basic steps you can take to ensure that you're working towards setting up an online jewellery business that's geared for growth.
Use our 7 steps on setting up an online jewellery business below and start making an impact online.
1. Get organised ahead of launch
Already an established jewellery business, without the online presence you need? Now is an excellent time to start grouping your existing designs into product lines – this may be by product type (earrings, necklaces, bracelets) as well as by specific collections that have a similar style.
It will also be useful to start naming or numbering your products individually in order to make sure your inventory and orders are easily tracked once your online presence is up and running.
Now is also a prime opportunity to start taking product photos of your jewellery designs for online use. Make sure they're clear and professional, and have varying views of each product so that your online customer can view all your collections in detail. Still unsure about product photography? It may help to call upon an experienced product photographer for the best results.
2. Deal with legal
There are some fundamental legal considerations that will need to be made when you're about to set up your online jewellery business. If you haven't already done so at this stage, you should select a trading name and do some research into your tax obligations as a business. More specifically, as a jeweller who works with precious metals you will need to ensure your precious metal pieces are hallmarked correctly at one of the UK's assay offices – unless its weight is under the threshold for that particular precious metal. You can contact your nearest assay office in London, Birmingham or Sheffield and ask for more details on how to register.
3. Make time for your design production
Without a cohesive jewellery collection, it's safe to say that it's difficult to become an online success. So, it is important to make sure that setting up an online jewellery business does not completely take away from the regular production of your designs. When you're starting out, it may seem more appropriate to offer your customers variety, but if you're looking to build your reputation as an accomplished designer with your own style, establishing collections that have their own identity will set you apart from the amateurs.
4. Start the web build process
Decided on whether Etsy or your own site is the right move for your online jewellery business? Of course, online marketplaces such as eBay and Etsy have their merits, but if you're working towards a completely personalised online presence, your own website (when designed with your customers in mind) is undoubtedly a more professional solution for your online growth. Even with limited knowledge of building websites, third party services can provide you with the framework of a well-designed site, and a support system for when you need help fixing issues. Make sure you research into the pricing plans for each platform and what else they can offer you in terms of support or add-on services such as email or social media network integration. This will help you to determine which package offers you the best value for money.
The fundamentals of getting your web build right? It's certainly not an exact science, but here are a few things you'll need to consider:
Homepage: Make sure your homepage tells users about your business in a short but compelling way. Use it as an opportunity to showcase some of your best and most popular designs.
Product pages: Make sure that these contain all the information your customers would need in order to buy the item – materials, sizing and delivery timescales are a must. Also make sure that these pages present your designs professionally.
Contact details: Make sure these are easy to find should customers need to contact you with queries. Offer both email and telephone contact if possible.
5. Get your shopping cart set up right
As the sole purpose of setting up an online jewellery business is to encourage sales and business growth, it's vital to get your online checkout experience right from the start. If your web hosting company does not currently offer you a checkout or merchant service as part of their package, consider setting up with PayPal in the interim. It's simple to set up and straightforward for customers to use. PayPal will take a small percentage of each transaction made and you won't have access to your clientele's card data, however this makes the process secure and easy to manage – and it also means that customers can trust the transaction process from the very start.
6. Make digital marketing a priority
Once your site is functioning properly and customers can start making transactions, you're ready to kick-start your marketing efforts. If you're in a position to do so, invest some capital in digital advertising and get your website appearing in Google's search results. If you don't have the capital or know-how for advertising at this stage, invest some time in adding a blog to your website instead. Insight into your design process, behind the scenes looks at your latest collections, and interesting pieces on the latest trends in jewellery are great topics for building your online presence and building relationships outside your current customer base.
7. Get sociable
The use of social media platforms to share images and updates on your designs is a powerful and straightforward way of gaining more traction online. Instagram, Pinterest, and Facebook are rife with amateur designers trying to push their designs, so make sure your social messaging stands out from the rest with professional images of your products, competitions to encourage people to engage with your jewellery brand, and also consider using deals and discounts on certain pieces to spark interest. Social media sharing is invaluable to not only setting up a jewellery business online, but if done regularly, will play a vital role in your business's growth.