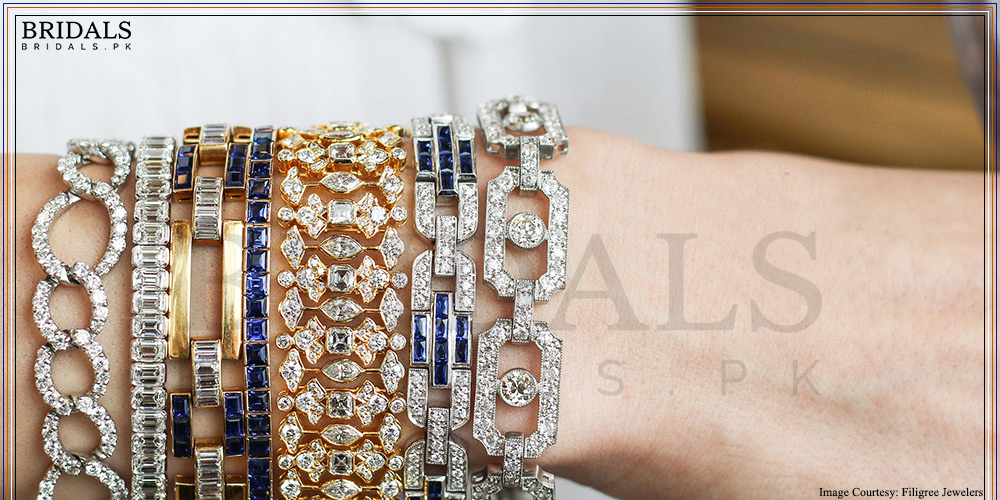 There's a lot of speculation about new jewelry that is suddenly making the rounds on social media. Wondering what in the world is a tennis bracelet? It's basically a modern take on the old-fashioned 1920s classic 'diamond line' bracelet. It got the name 'tennis bracelet' in 1970s, associating the attribute to the tennis champion Chris Evert, who used to wear one while playing the tournament. As far and long every girl knows this elegant diamond jewel is gifted on every desi wedding. Every desi aunty orders at least a pair for the newlywed bride. It's a must by all means. And why shouldn't it be? It's a beautifully crafted diamond studded or gem studded bracelet.
Here are top five factors to consider why buying a tennis bracelet is a good idea.
1.  The setting is much more unique and eye catching.
2. They look very elegant when worn, are extremely stylish and always add onto the sophistication!
3.  It's for the modern bride. Perfect pairing with your eastern and western clothes. It literally goes with anything!
4. The prong and channel setting in this bracelet type is quite popular and sets it off quite well.
5. It comes in various colors that complement your skin tone such as yellow gold for warm skin types or pure silver
for the porcelain skin type.
Mix and match this timeless pick on your wrist along with your bangles and adorn them with a sari or a gown, these beauties are for sure to add the glam effect! Scroll ahead and check out our picks, as we think these pieces need to make it to your jewelry box!