Running a jewellery business takes a great deal of organisation, time management and strategy. You may think you have your marketing strategy sorted, but it's important to remember to align your marketing campaigns with the retail calendar, incorporating important dates and events throughout the year. Find out the key dates to look out for, alongside helpful jewellery marketing tips for small businesses below.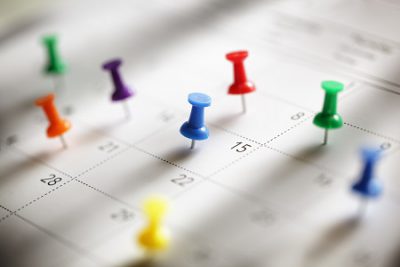 Retail Calendar: Important Dates for Jewellery Businesses
Besides the obvious holidays, bank holidays and celebrations throughout the year, what are the key dates that jewellery sellers should be thinking about? Two of the most important dates are just around the corner:
Black Friday: 23rd November 2018
Cyber Monday: 26th November 2018
Ensuring these big sales events are firmly set into your marketing calendar is a great opportunity to drive sales and bring in revenue. Popular across the globe, these two dates are notorious for online shopping, awash with offers and discounts in the lead up to Christmas. But what are the best ways to make the most of this as a jewellery seller?
Black Friday Marketing Ideas
Black Friday Email Campaigns – Timing is everything. Send out a blast to past customers and prospects on your mailing list to remind them of the big event a couple of weeks before. A great way to get buyers engaged is to have a catchy subject line, include eye-catching images and clearly highlight your offers or discounts for the day. Encouraging the recipients to add this event to their own calendar is a great way to get them involved with your Black Friday marketing strategy, which will hopefully lead them to coming back on the day.
Social Media – Publishing your Black Friday promotion ideas over social media channels is a great way to get people involved and create a hype around the day. Try and get re-tweeted or shared by someone in the jewellery industry who has a lot of followers – this will increase your visibility and let more people know you intend to partake in Black Friday.
Cyber Monday Marketing for Jewellery Businesses
Flash Sale – Once Black Friday has come and gone, why not use Cyber Monday to throw a flash sale on selected items? Whether it's small brooches or delicate charm bracelets, throwing a sale will keep you involved with the retail events around the globe. Put out e-flyers in the weeks before to create a hype around your small business and hopefully entice people to come back on Cyber Monday and purchase.
Countdown Timer – As well as your Cyber Monday sale, putting a countdown timer on each product denotes a sense of urgency to buyers. This can be done online on your product pages, or offline in store using signs which indicate how many products are left in stock. If customers believe they only have a limited time to purchase the product, or that there are only a few items left available to buy, this will persuade people to purchase quickly to ensure they get the best product amidst the buzz of Cyber Monday.

However, there are other dates that we may forget when it comes to planning out our jewellery marketing strategies. Promoting these annual days via a sale, discount codes or social media posts are a great way to stay ahead of competitors:
January 1st: New Year's Day
February 14th: Valentine's Day
February 16th: Chinese New Year
March 17th: St Patrick's Day
March 20th: First Day of Spring
April 1st: April Fool's Day
April 23rd: St George's Day
June 21st: Summer Solstice – the longest day of the year.
August 19th: World Photo Day – perhaps you could encourage customers to take pictures wearing their jewellery over social media?
September 23rd: First Day of Autumn
October 4th: World Animal Day – any animal related jewellery could be discounted in a sale to promote this event.
October 31st: Halloween
November 5th: Bonfire Night
December 21st: Winter Solstice – the shortest day of the year.
December 25th: Christmas Day
December 26th: Boxing Day
December 31st: New Year's Eve
Of course, there's the bank holiday dates, Father's and Mother's Day, Black Friday and Cyber Monday which will change each year to remember to add to your jewellery marketing calendar, too.