We see brides put to much effort, time and money into their lehenga shopping, but not so much when it comes to their jewellery, which is a crime we feel! Yes, on the day of the wedding, it is going to be the lehenga that's gonna attract all the attention, but your jewellery is like that trusty partner which will be useful in the long run- after all, it is an investment, and an expensive one at that! So here are some tips for the smart brides to keep in mind before they go bridal shopping- tips that will be very useful to make sure the jewellery you pick is perfect- for the wedding and for later!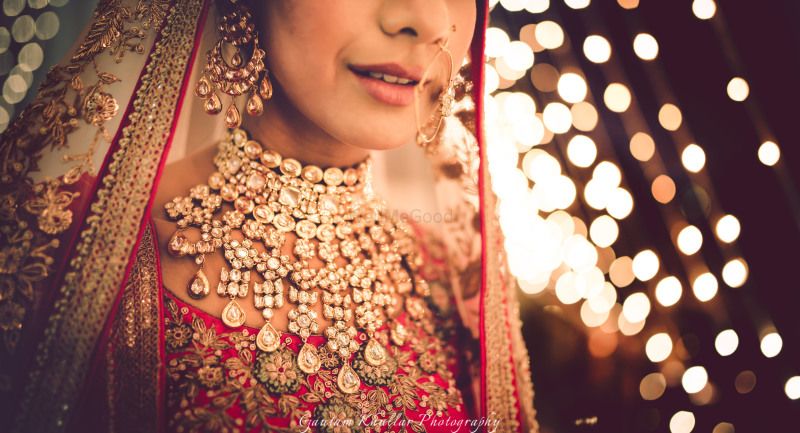 Image via Gautam Khullar Photography
Start researching at least 6 months prior
It's not just your bridal outfits that need some research, your jewellery does too, especially since its going to be more expensive! Plus, with so many options out there- polki, diamond, antique, nakshi, pacchi and a pool of different gemstones, you should be clear on what you want and what suits your style more.
Decide whether your wedding jewellery is an investment or luxurious splurging
If it is an from an investment point of view, then plain gold jewellery without polkis or diamonds is a good idea. Diamonds can lose up to 20 percent of their value the moment they are purchased. But if it is just pure luxury, then buy whatever your heart desires!
Go through your family heirloom jewellery before going shopping
Go through your mom and grandmom's jewellery collection. This way you know what is already there, and you can choose to wear that and buy something matching or mix and match. You also that way have the option of reviving an old piece or making small tweaks to suit your needs.
Set a budget with an upper limit and try sticking to it
There will always be temptation at a jewellery store, especially when you're doing bridal shopping! Set a budget and stick to it so it becomes easier to let go of temptation- if money isn't an issue at all, go crazy!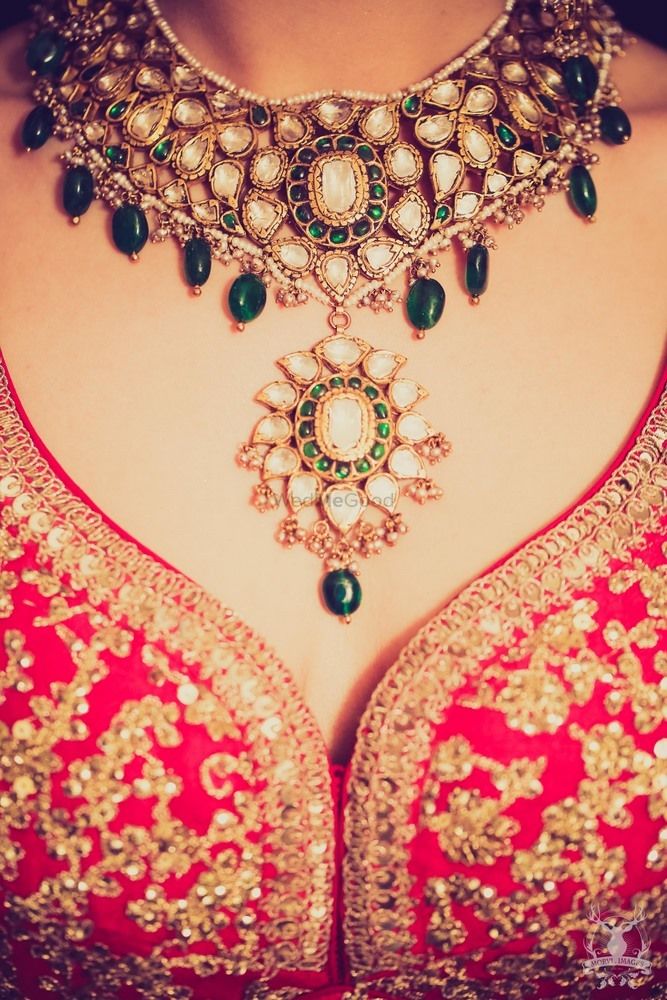 Image via Arushi & Dhruv (Delhi)
Pick out your jewellery before you pick your outfits
This is true if you plan on wearing real jewellery. Don't buy your clothes first and then match your jewellery. It should be the other way round. Jewellery is a bigger investment, and customising your outfits to match the jewellery is easier than the other way round.
Think long-term when picking your jewellery
Don't only think of the wedding occasions you plan on wearing the jewellery to- think long-term. Jewellery is quite valuable and an investment for a lifetime, so choose carefully- make sure you get the right advice for the right decision.
Pick jewellery that suits your skin tone and face shape
Like different styles of an outfit, jewellery too should be picked depending on your face shape. See what style flatters you the most- whether its a choker, bib necklace, rani haar or long dangly earrings or statement ones. Pick something that suits your face and style! The colour and tone of the metal or gold should also go with your skin tone.
It's ok to layer sets instead of buying a bulky bridal one
Bridal sets are usually different from the usual ones, heavier, bigger and bulkier. So if you won't be able to wear the set again ever, there's really no point! Instead of one big bulky set, buy two or more smaller ones which can be worn and paired in the future way more easily!
Prefer pieces that are versatile to mix and match
Versatility is a very big point that a lot of brides do not think of before the wedding. These days you have so many jewellery options with modular, detachable and changeable units that can be worn several ways. There are also a lot of fusion pieces which work for both traditional and contemporary occasions.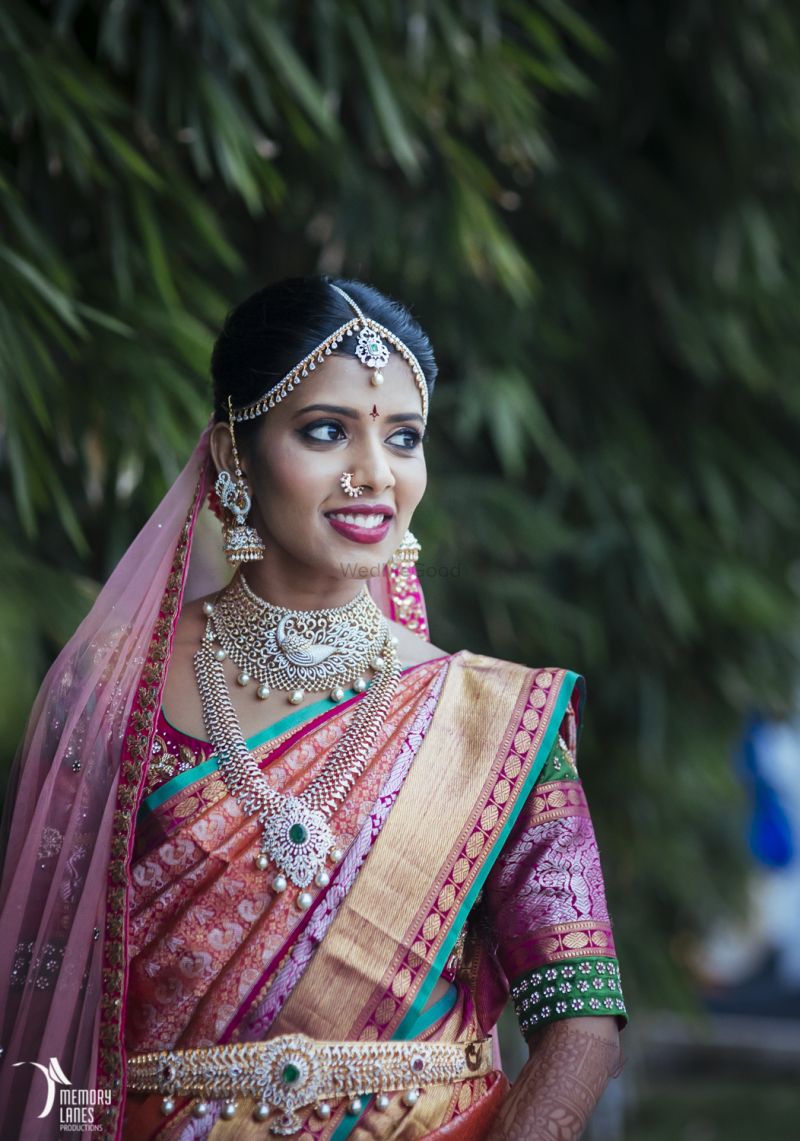 Image via Memory Lanes Productions (SumanChakri Photography)
Choose classic and timeless designs
When you are investing in real jewellery, you have to make sure that the designs you pick are going to be wearable even 20 years from today without looking dated! Choose classic designs in diamonds or polki with a single coloured gemstone like an emerald or a ruby, it's a timeless design that you cannot go wrong with!
Remember that customising your jewellery is also an option
If you are just not getting what you want, then consider customising your wedding jewellery. But keep in mind that customized jewellery will usually cost a bit more than buying ready-made pieces. Another option is to ask for small alterations in ready-made jewellery which will not cost much. You can switch beads and add teardrops or pearls to match your outfit.
Make sure you take a price breakup
Buying jewellery is an investment, so its only wise to know where your money is going! Insist on all the details on making charges, weight of precious stones (if any) and the GST charges. When you go bridal jewellery shopping, its best to be smart to avoid getting fleeced.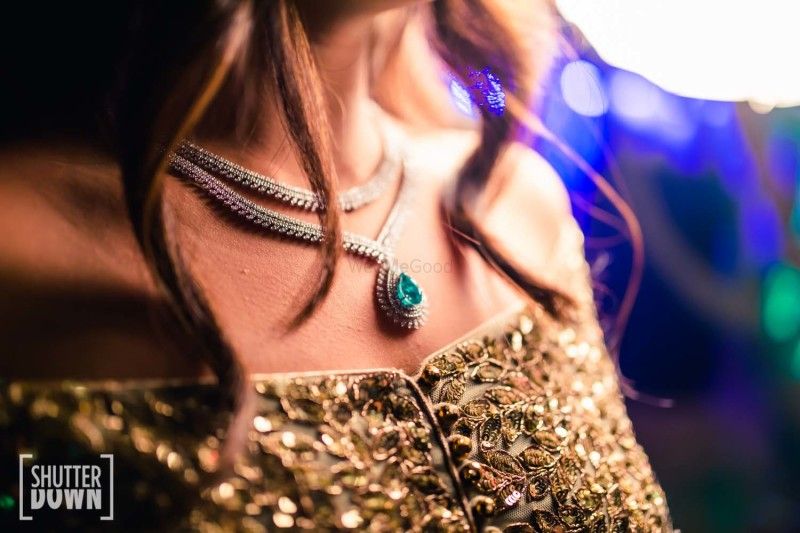 Image via Shutterdown – Lakshya Chawla
Buy jewellery only from reputed jewelers and insist on a bill
Buying jewellery from reputed jewelers will ensure that you get your money's worth. Make sure the jewellery is hallmarked and ask for a cash memo which will come handy in case you want to exchange or sell later.